Books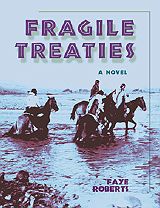 Fragile Treaties
Western Reflections Publishing
Fragile Treaties was selected as a 2002 Finalist for the WILLA Literary Award for Original Paperback.
During the 1870s, two cultures were on a dangerous collision course with destiny. The Ute Indian and the white man both wanted the same thing – to occupy the Shining Mountains in southwestern Colorado – but for conflicting reasons.
Through the eyes of four very different people, Fragile Treaties tells the story of the forced exodus of the Ute Indians from Colorado. Colonel Samuel Bodeen and his wife Lily seek to escape their troubled pasts and build a new future. Chief Ouray and his wife Chipeta try to hold on to their heritage and provide a secure future for the Ute people.
Even with their uniquely different lifestyles, the women create a strong bond of friendship that will comfort them through the troubled years of 1876-1881. But the friendship of Colonel Bodeen and Chief Ouray is doomed – ultimately, one will have to betray the other so all can survive.
Fragile Treaties is about promises made and broken. It is about betrayal, greed and deceit. But finally, it is about forgiveness and the bond that looks past shortcomings and differences to transform the soul.
Faye Roberts began her writing career in 1988, while escaping from three teenagers and a five-year-old. Her office was the bathroom. It was there that she wrote a story for a writing contest, which she won. Since that time, Faye's work has been published in a number of national magazines. Her first book, a compilation of devotionals for women in the workplace, was published in 1995.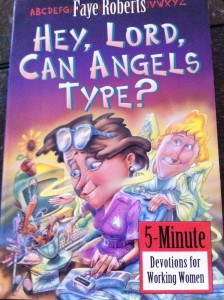 Hey Lord, Can Angels Type?
Concordia Publishing
With wit and wisdom, Faye Roberts offers thoughts, prayers and parables to help working mothers make it through to Friday.