Ebooks and print for the Silver Cross Legacy series are available at http://amazon.com/author/fayelroberts.com
Imagine cleaning out your grandmother's attic and finding an old trunk containing diaries written by your ancestral women. What were their highest joys, deepest sorrows and buried secrets? What would their words reveal about your family? What would they reveal about you and the decisions you've made in life?
Marina Townsend is given such a treasure, or is it a curse?  Before she can inherit the family ranch, she must fulfill a stipulation in her mother's will. She must read the diaries of four intriguing, yet very different foremothers, caretakers of the family ranch spanning over one hundred years, and put their words into a format to be passed to future generations–The Silver Cross Ranch Legacy.
In reading the diaries, Marina learns a ranch woman is a rare breed with a spirit of survival branded into her soul, a legacy passed down from one generation to the next that is as enduring as the land. The words written in the journals expose intimate stories of life's struggles, while glittering with memories of hard-won rewards and kernels of wisdom. Marina's ancestors unravel the once organized tapestry of her life, causing her to question how she thinks about herself, her marriage, her values, and the way she is leading her life.
*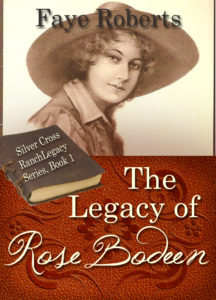 The Legacy of Rose Bodeen 1876 – 1936
Available now on Amazon in print and e-book. https://amzn.to/2JgrvEn
A hard-living kind of girl, Rose can out-rope, out-shoot, and out-cuss any ranch hand on the Silver Cross. After being jilted by her childhood love, she hightails it to Denver and joins Buffalo Bill Cody's Wild West Extravaganza. As "Colorado Rose", she wins horse races, and the heart of Oliver Steele.  During her lifetime, Rose works for a woman's right to vote and have access to birth control, hires women hands and runs sheep instead of cattle during The Great War, is the first in the valley to replace horses with a tractor, and faces hard choices when bankers threaten to foreclose during the Great Depression. Rose's faith is tested time and again, but she comes to accept the 'anvil time' that shapes her life.
*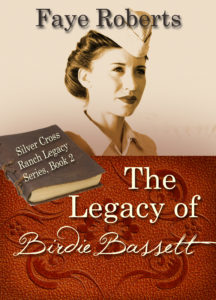 The Legacy of Birdie Bassett 1900 – 1970
Available now on Amazon in print and e-book  https://amzn.to/2xzwqLX
Isabel is a quiet and shy child, earning the nickname Birdie due to her spindly legs. Like her father Oliver, she has a quick mind and giving heart. Caring nothing for the ranch life her mother Rose thrives on, she instead develops a love of nursing.  During The Great War, Birdie lies about her age in order to be assigned as an aide in Le Treport, France. After the guns are silenced, her wishes to marry and be coddled come true when she marries handsome Marshall Bassett, who has an ego as large as his Texas spread.  While two world wars and the Great Depression crumble other women, Birdie becomes strong and resolved, learning she is more like her mother than she cares to admit. In her own unique style, Birdie becomes a devoted manager of the Silver Cross, bringing beauty and grace to the land, ruling with a gentle hand inside an iron glove.
*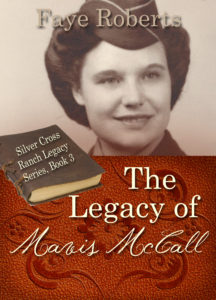 The Legacy of Mavis McCall 1920 – 1995
Available now on Amazon in print and e-book https://amzn.to/2xygtp4
Like her grandmother Rose, Mavis has a deep love for ranch life, but her father Marshall has other plans for her. She is sent to Denver to study stenography, a proper woman's vocation, in the hopes of turning her into a lady. She secretly enrolls in an agricultural college, and meets the love of her life. Yet, the brutality of another, and more deadly world war, destroys her dreams. She joins the Women's Army Corp and travels the back roads of Europe as the secretary to a General. She marries after returning stateside, but cannot survive tract housing and post-war fences of Suburbia, or the memories of what she'd experienced in Europe. She returns to the land at the base of the Shining Mountains to regain her strength. With careful planning and astute care, leads the Silver Cross into a new age. 
*

The Legacy of Claire Delany 1950 – 2010       
Available on Amazon in print and e-book https://amzn.to/2kHpPFM
Claire's daughter, Marina Bernier Townsend, feels betrayed after the reading of her mother's will. She does not immediately inherit the ranch. Instead, her mother has created a trust assigning three people to share in the management, and the fate, of the Silver Cross–Claire's newly acquired husband Hank Delany, crusty attorney Benjamin Lichovich, and Marina. Along with the trust comes a stipulation that only after Marina  converts her foremother's diaries, including Claire's, into books approved by both Hank and Benjamin, will she gain her rightful inheritance. The stipulation threatens Marina's marriage, her values, and the way she is leading her life. Marina's ancestral women, and their stories, change her in ways she never would have imagined.
No matter the era, the history, or the circumstances of their lives, each woman comes to cherish the Silver Cross and its heritage. And each, in her own way, develops a bond with the keeper of the Legacy, the one true Creator and steward of the land.